URGENT:

  KERALA FLOOD DISASTER
The following news article on the devastating floods in Kerala/INDIA recently appeared at TIME.com (8/19/2018):
Officials Say Over 350 Dead, 800,000 Displaced in India Flood
(CHENGANNUR, India) — Some 800,000 people have been displaced and over 350 have died in the worst flooding in a century in southern India's Kerala state, officials said Sunday, as rescuers searched for people stranded in the worst-affected areas.
The downpours that started Aug. 8 have triggered floods and landslides and caused homes and bridges to collapse across Kerala, a picturesque state known for its quiet tropical backwaters and beautiful beaches.
Thousands of rescuers were continuing efforts to reach out to stranded people and get relief supplies to isolated areas by hundreds of boats and nearly two dozen helicopters, said P.H. Kurian, a top disaster management official in Kerala. He said weather conditions had improved considerably and expected the nearly 10,000 people still stranded to be rescued by Monday.
An estimated 800,000 people have taken shelter in some 4,000 relief camps across Kerala, Kurian said ....
In several villages in the suburbs of Chengannur, one of the worst-affected areas, carcasses of dead cattle were seen floating in muddy waters as water began receding. However, vast rice fields continued to be marooned and many vehicles were submerged.
In some villages, floodwaters up to 3 meters (10 feet) high had entered homes. ....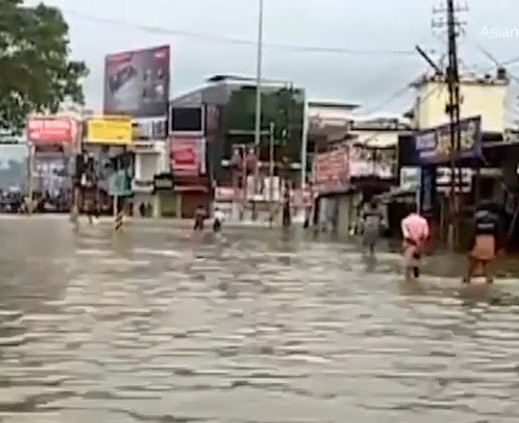 Prime Minister Narendra Modi inspected the flooded landscape from a helicopter on Saturday and met with the state's top officials, promising more than $70 million in aid. While the central government has dispatched multiple military units to Kerala, state officials are pleading for additional help.
Officials have put initial storm damage estimates at nearly $3 billion.
At least 250 people have died in the flooding in a little over a week, with 31 others missing, according to Kurian. More than 1,000 people have died in flooding in seven Indian states since the start of the monsoon season, including over 350 in Kerala. .....
 (ref. http://time.com/5371279/india-flooding-kerala/)
Please help us provide support and assistance to our friends and Malabar Mission Circle partners in Kerala. Donations toward Malabar Mission Society projects can be made through the MMS (see 'Contact Us' for our Regina, SK mailing address). Donations toward general flood relief can also be made through Canadian Lutheran World Relief (CLWR).  THANK YOU!